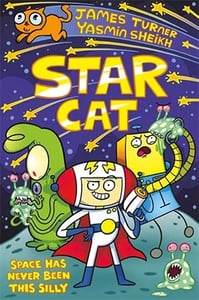 £

7.99
Paperback, 208 full-colour pages, written by me and illustrated by Yasmin Sheikh.
In the deepest depths of space, there is only one crew brave enough to take on the universe's most dangerous villains...
Unfortunately, they weren't available for this book, so you'll have to make do with the crew of the...
STAR CAT!
Join Captain Spaceington and his team as they blunder across the universe, stumbling onto strange planets, sticking their noses into spatial anomalies, and poking funny-looking aliens with sticks.
All books will be signed and have a quick character drawing, but if you'd like me to do a more elaborate, personalised sketch in your book, please choose the personalised sketch option below - you can then use the contact button on the right to send me any details of what you'd like me to draw.